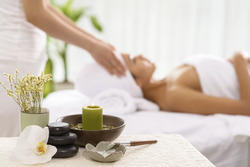 Training Course - Advance Spa Therapies
We welcome you to join & grow your career with our Advance Massage Course.

Once you enroll Kindly What's app on +918928733654 & our Relationship Manager will call you within 24 hours & update you on the course starting date.
Job / Career Opportunities:
Become a Certified Massage/ Spa Therapist in Gyms, High-end Spas, Spas, Massage Centers, Salons, Weight loss Centers or  you can also work as Free Lancer.
Eligibility Criteria : Anybody interested to learn Massage /Spa Therapy. There is no academic education requirement for this course.
Foot Reflexology - This is for acupressure points on foot for managing general  symptoms like headaches, sinus, pain reliefs & overall relaxation of the body.
Foot Spa

 

- This is for relaxing & beautifying treatment of the feet.
Thai - This is for the gentle pressure on the energy lines along with stretching of the entire body on a deeper level for relaxation.
Dry Full Body

 

 - This is for relief from body aches/pains & to induce relaxation entirely.  
Dry Back - This is for corporate chair massage.   
Swedish - Sports massage for muscle toning & recovery.
Head Spa - This is with oil application & important pressure points to release stress.
Deep Tissue - This ideal for sports men & athletes to speed up their recovery & improve performance.
Aroma Therapy - This is a combination of right fragrances & strokes   most apt for a holistic relaxation. 
Head, Neck & Shoulder Massage

 

- This is for complete relaxation & an effective way to decrease the stress levels & stiffness in the neck & shoulder area, only.
Hot Stone Therapy

 

- This is to stimulate & balance the energy chakras in body.
Combo & Body Polish Therapies - This includes Body Wrap - using Cello, Thermal, Plastic, Mummy, Body Pack - Mint, Chlorophyll, Skin Whitening, Fresh Fruit, Body Scrub  which is for Body Polishing & Skin Whitening.
Last but not the least ;

 

Revision & Examination. 
Duration of the course : 
3 Months only Sundays (14 sessions) - 3 hours per Sunday

4 weeks for 3 Times a week (14 sessions) - 3 hours a day.
Fees of the course : Rs. 23500/-  + (Govt Service Tax Extra)
* Kindly Note all our courses have NO REFUND & RETURN Policy.